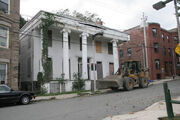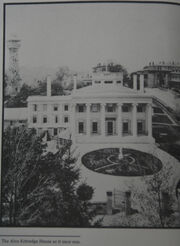 Alvah Kittredge Mansion
Site of Roxbury Lower Fort
Date: 1836
12 Linwood
Greek Revival
The Alvah Kittredge House, a large free standing Greek Revival House was built in 1836 by Alvah Kittredge(d. 1876.)It is currently is a state of decay and is an endangered property.

HISTORY
The house was built on the site of Roxbury Low Fort. The fort was designed by Henry Knox and constructed in the summer of 1775 on about 2 acres of land between Cedar, Highland and Linwood Streets. The walls of the fort were 12 feet thick and 5 feet high. It followed the natural configuration of the puddingstone except on the north.

Alvah Kittredge was an early developer and a prominent merchant and civic leader who bought several parcels of land in Roxbury Highlands. In the 1840's Kittredge began to subdivide his estate and other landholders did the same. In 1866 Kittredge sold the house to Nathaniel Bradlee, a noted Boston architect. Bradlee designed The Fellowes Athenaeum, the Boston and Maine Railroad station in Haymarket Square, St. John the Baptist Greek Orthodox Church, the Second Church (Copley Square), French Academic Hotel, St. Cloud (in the South End) and the New England Mutual Life Insurance Building. He also designed blocks of row houses which shaped the character of the South End in the 1850's.

Bradlee sold the house in 1896 at the height of the development boom that covered the highlands with rowhouses and other forms of multi family housing. The new owners turned the house so that it fronted on Linwood Street rather than Highland.

ARCHITECTURE

The Kittredge Mansion is a large frame Greek revival mansion of two stories with four two story Ionic columns and a flat glazed octagonal cupola. The main elevation is sheathed in flush boarding, used to suggest masonry materials.

CURRENT USE
The house is currently owned by The Roxbury Action Program which has been unable to rehabilitate it. It is one of the ten most endangered historic resources in Massachusetts according to Preservation Massachusetts.
Sources:

National Register of Historic Places-Nomination Form
Write the text of your article here!