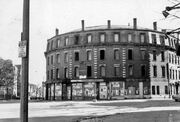 Address: 1-3 John Eliot Square
Date: 1870
Second Empire
by Marcia Butman, Discover Roxbury

Cox Building
The unusual curved building provides a striking "visual terminus" for Eliot Square.
Built by George Cox, a prominent builder, it contained street level stores, attached residences and hotel rooms on the upper floors. Today it is occupied by Cruz Construction Company.

HISTORY
The Cox building was built in 1870 by George Cox (1835-1896) a prominent Roxbury builder and developer. At the time of his death he was credited with building1600
homes, mostly in Roxbury. He is responsible for the marble block (28-46A Cedar Street) and the 1872 rows in the Mission Hill triangle (1-31 and 14-24 Worthington; 2-16 Wigglesworth and 1625 Tremont Street.

This building illustrates the transformation of Roxbury from a rural town of farms and country estates to a fashionable suburban neighborhood after the Civic War. . The Cox Building originally consisted of a central section containing street-level stores with hotel rooms on the upper floors, flanked by five attached one-family residences. (Bostonian Society Historic Markers)

ARCHITECTURE
The building is three stories with a mansard roof penetrated by windows. The central curved bay facing the square is brick with granite sill, lintels and quoins in the upper floors. On the matched flanked bays on Bartlett and Dudley Streets, brownstone is used for the entire façade as well as for ornamentation. The first floor of the brick portion has been entirely remodeled with glazed storefront windows. (National Register of Historic Places-Nomination Form)
CURRENT USE
The Cox Building was rehabilitated in 1984 by Historic Boston Incorporated. The offices of John B. Cruz Construction Inc., Cruz Management Co, and Inc. and Cruz Development Corporation are now located in the Cox building. Cruz is the oldest and among the largest minority owed companies in Massachusetts. Their projects include the Reggie Lewis Track and Athletic Center, The Prang House and Prang Estates and Cass House Roxbury Hills.

Sources:
National Register of Historic Places
Bostonian Society- Historic Markers
Boston Landmarks Commission
Write the text of your article here!