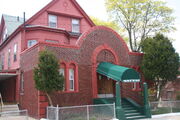 Masjid Al Quran
35 Intervale St.
Dorchester, MA 02121
617-445-8070
By Candelaria Silva

This building was built in the 1930's by a local Rabbi and was a synagogue and yeshiva (place of Jewish study) until it was sold to the Nation of Islam in the 1950's when it became of mosque. [Per great-grandson of the Rabbi.]
This mosque was originally named Muhammad's Mosque No. 11. It was founded in 1957 by Malcolm X and others and was the first Nation of Islam temple in Boston. Minister Louis Farrakhan was the first preacher at the mosque.

It was renamed in 1985. "There are only a few locations that still stand today that made the transition from the Nation of Islam days into Islam under Imam W.D. Mohammed," according to Ayesha K. Mustafaa, editor of the Muslim Journal in Chicago.

Imam Warith Dean Mohammed, son of longtime Nation of Islam leader Elijah Muhammad, became leader of the nation after his father's death in 1975 and brought the movement into mainstream Islam.

The current leader is Imam Taalib Mahdee, a Cambridge native who was elected in 1992. He succeeded Imam Shakir Mahmoud.

(Sources: When In Boston: A Timeline and Almanac by Jim Vrabel, Bostonian Society and "Keeping the faithful: After 50 years, this local mosque thrives but still faces challenges" by Omar Sacirbey, The Boston Globe, April 9, 2007.)