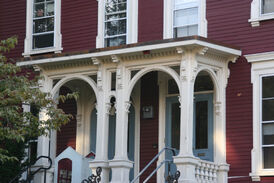 Paige Academy
28 Highland Ave.
Italianate
1859
Paige Academy is an independent elementary and nursery school founded in 1975.
It also operates an after school program and summer camp. Paige Academy programs are steeped in a strong academic and project based curriculum and grounded in the value system of Nguzo Saba: unity, self determination, collective work and responsibility, cooperative economics, purpose, creativity and faith

HISTORY
Paige Academy grew out of a theater company for teens, The Black Ghetto Theater Company, founded in 1970 when a group of 37 teenagers from a Bridge Upward Bound Program decided to use theater as a vehicle for the expression of oppression and boredom.

The stage afforded them the creative freedom they needed to speak up and be taken seriously. In 1975 it became apparent to the adult leadership of the teens that using theater as an educational tool could also benefit younger children.

Thus Paige Academy was born. The tradition of Lucy Paige Williams provides both the historical and philosophical base for the school.

During the reconstruction era and early twentieth century Lucy Paige Williams opened her home in Richmond Virginia to neighbors and their children, teaching them basic survival skills. Her schools of benevolence inspired members of her family to recognize the value of well trained dedicated teachers.

Angela Paige Cook, great grandniece of Lucy Paige established Paige Academy in1975 and honors the memory and spiritual growth of Lucy Paige Williams

ARCHITECTURE

Paige Academy occupied one half of a 3 story Italianate double house, originally built in 1859. In 2003, Paige Academy purchased the other half of the house. Gail Sullivan Associates directed the preservation and received a Massachusetts Historical Commission Preservation Award in recognition of their work.
Sources:

Gail Sullivan Associates: Portfolio-Paige Academy
Paige Academy website
Write the text of your article here!