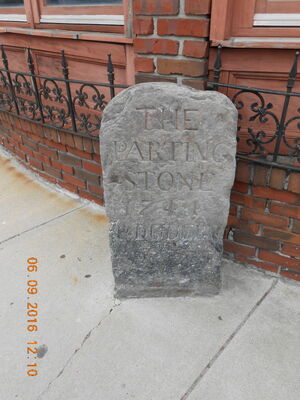 Milestone on Centre Street
This granite milestone is set in a stone wall between Linwood Square and 48 Centre Street . The inscription: Boston 3 miles, 1729. These stones, from the 18th century, were the sign posts for travelers south and west. This stone was set in puddingstone in 1935 during a Works Progress Administration project.

Parting Stones
A series of parting stones, or road markers were set up under the auspices of Paul Dudley (1675-1751), Chief Justice of the Massachusetts colony. At this time the area was populated by a scattering of farms. Sign posts were needed to guide travelers.

On a map drawn by Henry Pelham in 1775 there were fewer than 3 dozen houses along the 3 miles from Eliot Square through Roxbury to Allston to the causeway leading to the ferry landing across from Harvard Square.

The stone in Eliot Square marks the split in the road. The southern road goes out Centre Street to Dedham and on to Rhode Island. The more northern route goes to Cambridge and Watertown. This was the route William Dawes took when he rode out to warn the countryside that the British were marching on April 18 1775.
Sources: Kenney, Michael. "Romancing the MileStone," The Boston Globe, March 4, 2000.
Boston Landmarks Commission: Building Nomination Form