We're Getting Mutants in the MCU - The Loop
Play Sound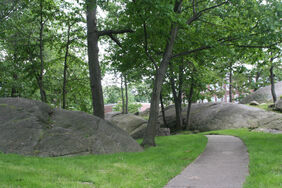 Roxbury puddingstone

Roxbury puddingstone is found only in the Boston basin. It was called puddingstone due to its resemblance to an old fashioned fruit filled pudding. Roxbury, first called Rocksbury is named after this rock.

Roxbury puddingstone is ancient river gravel which has cemented into hard rock by natural mineralization. The gravel was laid down in the beds of rivers hundreds of years ago. The individual round pebbles can still be seen; they are the various types of rock that existed in the area at that time, including volcanic rocks, granite and quartzite. Over time the accumulation of younger deposits on top of the gravel bonded the gravel together. This natural concrete was then squeezed and deformed by deep seated earth forces and slowly unearthed by surface erosion. Some of the erosion was accomplished by the glaciers that existed as recently as 12,000 years ago.

Puddingstone was a very popular building material in the 19th century, supplanting red brick as a material of choice. Mid Victorians appreciated the darker color of puddingstone and its ease in cleaning, as it is less porous than brownstone. Buildings built of puddingstone include: Cathedral of the Holy Cross, Old South Church, Eliot Congregational Church and The Museum of the National Center of Afro-American Artists. New Hope Baptist Church (formerly Tremont Street Methodist Church-1860-1862) was the first Boston church constructed of puddingstone.

Much of Boston's puddingstone was quarried from "The Ledge" an 1843 quarry located across Tremont Street from Mission Church on St. Alphonsus Street. The site is now Puddingstone Park, a passive 5.5. acre park. Often puddingsttone for new construction was quarried right at the building site.

In 1886 the Regimental Association sent a 30 ton puddingstone boulder by rail from Roxbury to Gettysburg to be erected as a monument to the 20th Massachusetts Regiment, marking a position they occupied and honoring 43 soldiers from the regiment who died or were mortally wounded on July 2, 1863. This monument was the idea of some of the 20th Massachusetts Regiment soldiers who had played on puddingstone boulders when they were children in Roxbury.

In 1983 the Massachusetts Legislature designated puddingstone as the state rock.
Sources
Harvard Regiment: 20th Regiment of Massachusetts Volunteer Infantry
www.harvardregiemtn.org/monum.html

Crosby, Irving. Boston Through the Ages: The Geological Story of Greater Boston.
Marshall Jones Company: Boston, Ma, 1928

Where Puddingstone Comes to the Surface, by Byron Rushing, Bay State Banner September 22, 1984

Edward Gordon, Public History Consultant